The Seductor Known as Satoru
One of Satoru's current projects is the seduction of an innocent 40 year old man we shall call "James." We have available two pictures of Satoru and James in the aftermath of an encounter. Satoru has led James on by acting utterly exhausted, while James sits poised for the next scene, drinking the aphrodisiac coffee that Satoru has given him!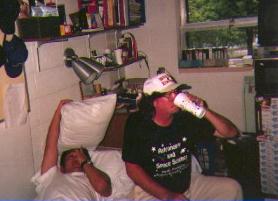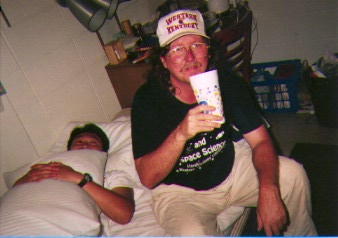 At great cost to my personal finances, I employed the services of an investigator to more closely study the interactions of James and Satoru. The following message was intercepted from Satoru to James, a picture of Satoru with a special personal message!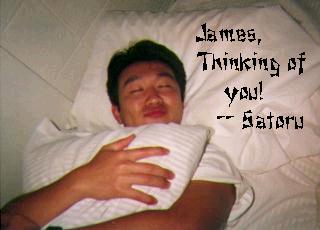 When my private investigator was discovered after clumsily leaving a trail to follow (they don't train 'em like they used to!), Satoru and James began conducting their relationship at night in the dark. I fired my Private Eye, and went after them myself! I took a picture of Satoru and James; immediately following, they ran in opposite directions. Knowing that James was innocent, I followed Satoru. I followed at a distance, and soon, after convincing himself that he had lost me, Satoru sat down on the ground to dry out.
Satoru constantly dominated and abused James to ensure that he remained properly submissive for Satoru's purposes. Here is an example of such activity; we see James being forced to wear most peculiar clothing...
Ernie and Satoru often share recreational activities with one another to plan their Western takeover strategies. See Satoru about to take an underhanded swing at a tennis ball.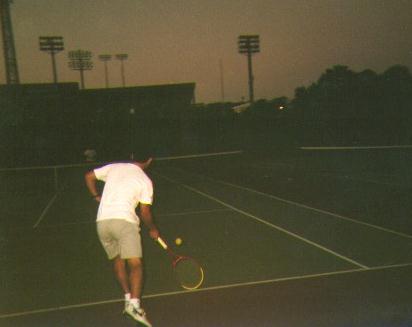 Satoru constantly gawked at me while we roomed together over the summer, mocking my accusations of him. He tried to play the part of the innocent international student from Japan who wore Pepe Jeans, but I saw right through it. Every good spy, like James Bond, can sleep with the enemy, and to prove my prowess, I posed in this picture with my Japanese roommate. Here are Satoru and me posing as friends, while thoughts of how to destroy the other race through our heads!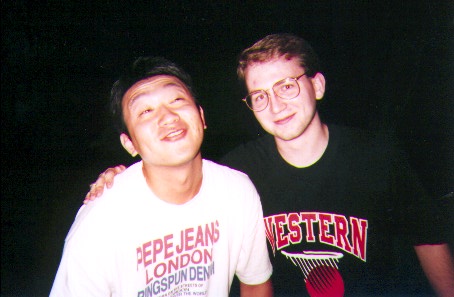 Go home.

Email bryantravis@yahoo.com