Mr. Shot Glass Making a Difference - Before and After:

| | |
| --- | --- |
| | |
| Mr. Shot Glass before working his wondrous magic on this tragic soul. | Mr. Shot Glass has remade Aaron into a new man and given him new hope. |
Mr. Shot Glass works in mysterious ways. Once upon a time, Aaron was a chemistry major and played trumpet in the university marching band. Now he sells mutual funds, underwent surgical removal of the cellular phone tumor behind his ear, wears a hat to keep his bald spot from sun burning and tinted his glasses. The trumpet is now tarnishing in an unknown attic.
On rare occasions, Mr. Shot Glass goes terribly wrong and produces horrific monstrosities, as this gentleman is experiencing firsthand: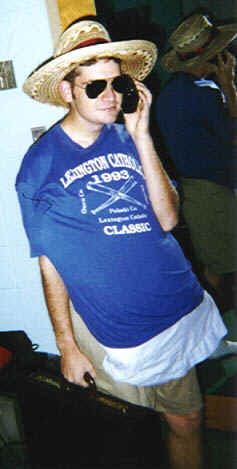 Mr. Shot Glass misses his mark.